Safeguarding
Our safeguarding team members are as follows:
Mrs. Victoria Corbett (Headteacher)
Mrs. Amanda Taylor (Deputy Headteacher and Designated Safeguarding Lead)
Ms. Debra Jones (Assistant Headteacher and Deputy Designated Safeguarding Lead)
Mr. Ben Singleton (Pastoral Lead and Deputy Designated Safeguarding Lead)
Mrs. Donna McNamara (Curriculum Leader and Deputy Designated Safeguarding Lead)
Ms. Jean Sloan (Chair of Governors)
If you need any information about agencies and support services, please visit the National Safeguarding Resource Hub. This is a free hub of National Safeguarding resources to empower children, young people and all adults supporting them.
www.safeguardingresourcehub.co.uk
Safeguarding Statement
Broad Square Primary School ensures children learn in a safe, caring and enriching environment.
Children are taught how to keep themselves safe, to develop positive and healthy relationships, how to avoid situations where they might be at risk including by being exploited.
Our school also has a statutory responsibility to share any concerns it might have about a child in need of protection with other agencies and in particular police, health and children's services.
Schools are not able to investigate concerns but have a legal duty to refer them. In most instances school will be able to inform the parents/carer of its need to make a referral. However, sometimes our school is advised by children's services or police that the parent/carer cannot be informed whilst they investigate the matter. We understand the anxiety parents/carers understandably feel when they are not told about any concerns from the outset.
The school follows legislation that aims to act in the interests of the child. Our school will always seek to work in partnership with parents and other agencies to ensure the best possible outcomes for the child and family.
Websites of interest:
ONLINE SAFETY
The school subscribes to National Online Safety, which allows parents to log in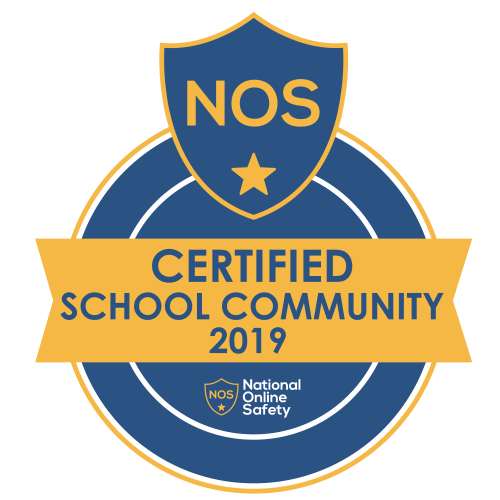 and access guides and courses, which give you an overview of different ways you can keep your child safe online. Please download their free App, follow them on Twitter (@natonlinesafety) and create a login on their website https://nationalonlinesafety.com/
https://parentinfo.org/ - is a collaboration between Parentzone and the NCA providing support and guidance for parents from leading experts and organisations - good links to safety online and health and well-being.
https://www.childnet.com/parents-and-carers/parent-and-carer-toolkit - offers a toolkit to support parents and carers of children of any age to start discussions about their online life, to set boundaries around online behaviour and technology use, and to find out where to get more help and support
https://www.internetmatters.org/?gclid=EAIaIQobChMIktuA5LWK2wIVRYXVCh2afg2aEAAYASAAEgIJ5vD_BwEprovides age-specific online safety checklists, guides on how to set parental controls on a range of devices, and a host of practical tips to help children get the most out of their digital world
https://www.lgfl.net/online-safety/default.aspx - has support for parents and carers to keep their children safe online, including tips to keep primary aged children safe online
https://www.saferinternet.org.uk/advice-centre/parents-and-carers - has tips, advice, guides and other resources to help keep children safe online, including parental controls offered by home internet providers and safety tools on social networks and other online services
Domestic Abuse
While all public services are adapting to new ways of working during this pandemic, our message to anyone who is experiencing domestic abuse is clear: You are not alone and you don't have to suffer in silence – we will still be here for you, no matter what.
Liverpool City Council, Merseyside Police, Local Authorities and providers of domestic abuse support across Merseyside will continue working together to maintain essential services and contacts for anyone affected by domestic abuse during the weeks and months to come.
Support will still be available by telephone, text message or online services.
Who to contact:
If you, your child or anyone in the family are at immediate risk of harm, you should contact the police urgently, CALL 999
Police guidance on the '999 silent solution' call:
The 999 call system allows all 999 callers to access support if they are unable to speak during the call. It is important that either a noise is made or that 55 is pressed. For example, if you can only make noise, such as tapping the handset, coughing, crying or even talking to the offender, then these actions will alert the attention of the BT operator.
The Police Force and specially trained officers are still there for people during the lockdown. The below list details services which are also available:
For support:
In an emergency always, ring 999. Using a silent 999 call followed by 55 (or tapping/coughing into the phone) will enable police to respond.
National Domestic Abuse 24 hour Support Helpline: 0808 2000 247
RESPECT National Helpline, perpetrators (9am to 5pm): 0808 802 4040
Or ring:
Liverpool Domestic Abuse Services 0151 263 7474
Merseyside Domestic Violence Service 0780 272 2703
South Liverpool Domestic Abuse Services 0151 494 2222
Ruby Project 0771 428 9180
Savera UK (honour based abuse & harmful practice specialist) 0800 107 0726
Worst Kept Secret Helpline (Merseyside) 0800 028 3398
Support for children:
Young Persons Advisory Service (YPAS) 0151 707 1025
NSPCC
Support for men:
Men's Advice Line (Freephone) 0808 801 0327
Further support can also be found at these national agencies:
Women's Aid | womensaid.org.uk | https://www.womensaid.org.uk/information-support/
National Domestic Violence Helpline: 0808 2000 247 (24 hours)
Refuge (includes information for men) | refuge.org.uk | 0808 200 0247 (24 hours)
National LGBT+ Domestic Abuse Helpline – 0800 999 5428
Operation Encompass
You may have heard the term Operation Encompass – Mrs. Taylor (our Designated Safeguarding Lead) shares the following explanation:
What is Operation Encompass?
The purpose of Operation Encompass is to safeguard and support children and young people who have been involved in a domestic abuse incident. Following an incident at home, children will often arrive at school distressed, upset and unprepared for the day.
Operation Encompass directly connects the police with schools to ensure better outcomes for children who are subject or witness to police-attended incidents of domestic abuse.
We would like you to be aware that if there is a domestic abuse incident in your home, school will receive an email from Operation Encompass and the safe guarding team will be able to support your child if needed tobetter safeguard your child against the short-, medium- and long-term effects of domestic abuse.
Please come and speak to school if you would like further support or advice about this.